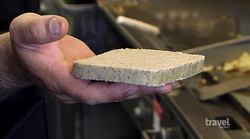 It probably isn't too difficult to find scrapple in Lancaster, Pennsylvania -- possibly the heart of Pennsynvania Dutch Country. But it certainly doesn't hurt to know a few go-to locations when you're riding your buggy through town and absolutely need your scrapple fix. Based on the reviews from the Travel Channel, the Neptune Diner might be such that place.
Why would Neptune Diner be a go-to spot to eat scrapple in Lancaster? Well, watch this Travel Channel video on scrapple at the diner and we'll discuss it on the other end:
First, Neptune Diner knows how to cook their scrapple: Co-founder, Cus Mountis, does an amazing job walking us through the proper way to cook your scrapple on the griddle so that it is perfectly brown and crispy on the outside, while soft and warm on the inside. My mouth is watering every time I watch that video.
Second, the Scrapple Scambler: Other co-founder, Alex Mountis, lists the various ways folks might enjoy their scrapple:
"People put eggs on top of 'em, people make sandwiches out of it. How we serve it? Most of the time my brother will do a scrambler with it..."
He'll do a what now? Oh, a scrambler. ::nom nom nom:: Yes please!
Third, their diners are knowledgable! A few choice quotes from these wise souls:
"We put syrup on it, some people like to put ketchup, but we prefer syrup." He says it as if those words wouldn't start a street fight in the heart of Philadelphia.
"Scrapple has a crisp outside. The center would be like...it's tough to describe. You honestly have to try scrapple to understand and appreciate it."
"There's two types of people in this world: those that like scrapple and those that don't." I couldn't say it better myself.
I gotta get myself to the Neptune Diner immediately.
Have you been to the Neptune Diner? Or do you have another recommendation for eating scrapple in Lancaster? Tell us in the comments!