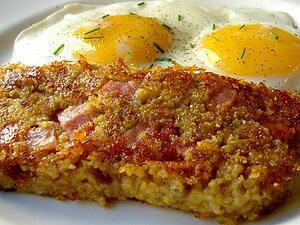 Let's talk for a second on the basics of how scrapple is made:
You've cut up your pig. You've sliced up your ham and bacon and tenderloin and whatever other pieces of hog you want to enjoy. That's when the scrapple making begins! Take your pork "scraps" -- yeah, the liver and fat, but maybe even some hearts and snouts -- and boil them. When it's nice and tender, you take out the pork and chop it up. Meanwhile, you've got this pork stock left behind; add something like flour or cornmeal to thicken it up. Stir the meat back in, cool and shape it in a loaf pan and BAM that's how scrapple is made!
Scrapple is delicious, and gosh darn it, it's practical! We'll never stop making scrapple the way we all know and love. Still, it never hurts to have some fun with a classic dish, which is exactly what Chef John Mitzewich has done with his "Modern Scrapple" recipe.
"Wait, modern scrapple? What the heck are you trying to pull here?"
I know, I know. But listen: it's a fun change, and it doesn't hurt that Chef John's final creation sure does look delicious.
The three biggest differences between classic scrapple and Chef John's modern scrapple:
Instead of pork leftovers, Chef John uses pork shoulder. Hey, pork tongue ain't for everyone.
He substitutes polenta for cornmeal. According to Chef John, this makes the final product a bit softer and lighter (and a bit more delicate when cooking, so be gentle when frying and flipping!)
Chef John throws in some diced ham, because who doesn't want more pig with their pig?
Watch the cooking for yourself:
Here is Chef John Mitzewich's modern scrapple recipe:
Combine the following in a pot:

1lb pork shoulder - cubed
1/2 tsp salt
1 tsp black peper
1/4 tsp white pepper
1/2 tsp cayenne
1/2 tsp sage
Pinch of Allspice
3 1/2 cups water

Simmer the mixture, covered, for about 2 hours until pork is "fork tender."
Remove the pork, chop it up, AND SAVE THE STOCK.
Dice up 4oz of ham.
Add the following ingredients to the left over stock (should be about 3 cups left):

1/2 tsp salt
1 cup polenta

Reduce heat to low and simmer for 30-40 minutes until very thick. Stir frequently.
Add in the chopped pork and diced ham.
Line a loaf pan with plastic wrap and pour the thick scrapple mixture in.
Let it cool down to room temperature and place in the fridge over night.
Now your scrapple is ready to cook! Unwrap the scrapple (feel free to get excited like a kid on Christmas morning) and cut it into 1/4" to 1/2" thick slices. Dust lightly with cornmeal. Cook on both sides in a pan with some oil until crispy and brown on the outside! (as scrapple is meant to be served)
I know, it's not exactly the scrapple we all know and love, but it does seem like an interesting diversion.
Have you tried this recipe? Or do you have a twist on how you make your own scrapple? Let us know all about it in the comments!