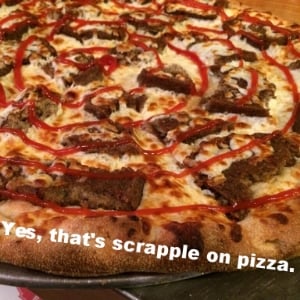 Pizza and meat go together like...well...pizza and meat, I guess. But if anyone is familiar with putting meat on top of pizza, it's Frank Maimone, owner of Rustica Pizza in the Northern Liberty neighborhood of Philadelphia.
His restaurant has all kinds of nutty pizzas, like a rueben pizza, a BBQ pulled pork pizza with slaw, a brisket pizza, and a chicken molé pizza. (His motto: "If you like it as a food, you can make it work.")
If I'd known about this restaurant before last week, I probably would have a different reaction to his scrapple pizza. Instead of, "THAT'S AMAZING THAT'S AMAZING THAT'S AMAZING!!" I would have said, "Dude, what took you so long?!"
Read More...