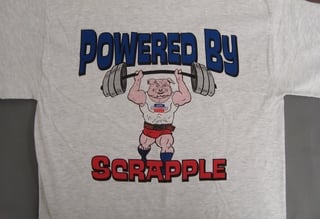 RAPA, located in Bridgeville, Delaware, is the world's largest producer of scrapple. Wow, that is a great phrase to read.
Scrapple lovers often have a brand-of-choice, so RAPA's distinctive red, white and blue packaging is a welcome sight to many. Growing up in Maryland, this was once the only scrapple I knew.
RAPA Scrapple History
In 1926, brothers Ralph and Paul Adams started a scrapple manufacturing plant. Notice the bold letters I added? That's where the RAPA name comes from. Did I just blow your mind? Probably not, but still, it's an interesting fact.
Though RAPA was bought by Jones Dairy Farm in 1981, their scrapple continues to be manufactured in Bridgeville with a staff of 60, in a facility that looks like a giant brick of their own scrapple. No word on if they are looking to hire scrapple quality control tasters, though I'm sure they'd have little trouble filling that position.
Read More...