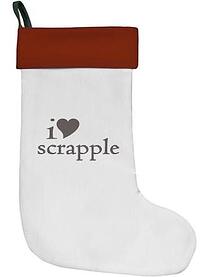 "Any day with scrapple is like Christmas!" says Gregg S. on our Scrapple Facebook page. Well, I guess that's true, but technically only one day a year is actually Christmas.
On that wonderful day, how do you incorporate scrapple into your Christmas festivities? Maybe a side dish along with some sort of casserole. Or maybe scrapple and eggs as you unwrap gifts. Man, that sounds delicious. But I'm wondering if we can do even more.
Here are a few ideas to make scrapple a bigger part of everyone's Christmas:
1. Scrapple Christmas Stockings
Mom, Dad, Little Susie, Fido - sure the whole family gets a stocking over the fireplace. But what does that say about your choice in breakfast meat? Absolutely nothing. Which is why we should all be hanging scrapple Christmas stockings by the chimney with care.
Bonus: I bet a brick of scrapple would slide right in to that stocking. Shopping just got easier!
2. Scrapple Mistletoe
I guess mistletoe is supposed to be a plant, but that's what everyone is expecting! Plus, it's kind of a parasite. Who wants to support that needy behavior?
Think of an unfried brick of scrapple like a fresh jar of Play-Doh. Mush some scrapple around string, hang it over the doorway, and you'll be good to go; the envy of all your Christmas-partying friends.
Bonus: The scrapple mistetoe can be "recycled" as breakfast the next morning.
3. Scrapple Dessert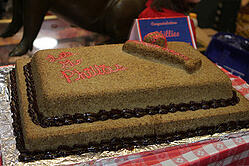 Yeah, scrapple is most enjoyed with the main course (or even as the main course). But what's wrong with adding a little sweet to this savory dish?
For example, there's various ways to make Apple Scrapple Pie and all of them look...uh...delicious...?
Almost as delicious? Scrapple cake -- see photo to the right. Don't you want to just dive right in to that scrapple cake with a knife and start slicing up a few pieces for yourself? No? Well, more for me then I guess.
These are just a few possible ideas, but you tell me: How does your family incorporate scrapple into their Christmas celebrations?