I ran across this fabulous book recently. Pennsylvania Dutch Cookery written in 1935.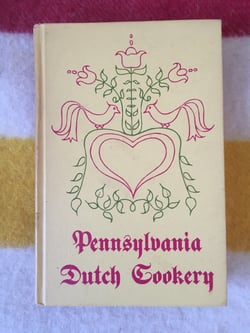 I was immediately curious what they had to say about scrapple. When I flipped to the table of contents I was not disappointed: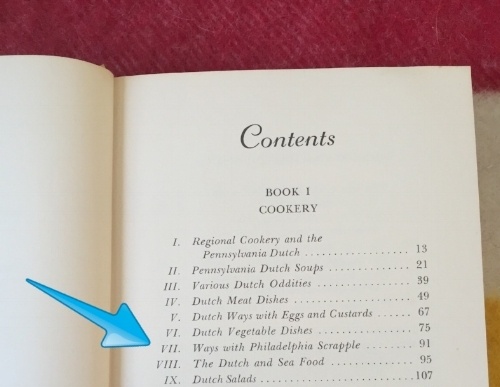 "Ways with Philadelphia Scrapple." My goodness, it almost sounds naughty. But even then, in a very delicious way. Pennsylvania Dutch, you can have your way with my Philadelphia scrapple anytime you want. Actually, maybe I'm speaking too soon. Let's take a look inside.
Pennsylvania Dutch Scrapple Recipes
I had hoped for pages-upon-pages of scrapple recipes. Shockingly, there are only four pages and nine total recipes. The first three recipes start off strong:
Philadephia Scrapple Croquettes
Baked Scrapple with Scalloped Potatoes
Scrapple Cabbage, Bethlehem
Scrapple cabbage? Oh yeah! What does that involve, you ask? Basically, the recipe calls for you to scoop out the insides of a head of cabbage, stuff it with scrapple, and boil it all in salted water. [tilted head like a confused dog] Listen, I love scrapple and you do too. But this sounds like something they'd slop into Oliver's plate when he asks for some more.
Still, the idea of using scrapple beyond its standard brick or sliced form is something I'd never thought of. And the PA Dutch take it to another level with their fourth recipe, Scrapple Peppers, Germantown. Here they have you creating a scrapple mixture and stuffing it inside some big green peppers. I mean, imagine this, but stuffed with scrapple. I can hear you nodding your head.
But that's the high point. From there, things start to peter out. The remaining five "recipes" are just slices of scrapple topped with something else:
Scrapple with Pineapple Rings
Scrapple with Fried Tomatoes
Scrapple with Fried Peppers
Scrapple with Tomato Sauce
Scrapple with Spinach
To their credit, these are certainly some creative scrapple toppings, most of which I haven't heard mentioned before.
Perhaps this is why scrapple didn't spread much beyond the Mid-Atlantic. Most meats get involved in some amazingly mouth-watering recipes. Here we have scrapple and...stuffed cabbage. Blah. When I ride my wagon across the country looking for gold, that's probably not one of the recipes I'm using to try and make friends with the new neighbors.
Still, I do feel I've learned something. And maybe I'll try out the Scrapple Peppers for dinner one night when I'm feeling adventurous, as long as I can get my mind off of that stuffed, boiled cabbage...