A scrapple company 3,000 miles from Philadelphia? That makes their scrapple without the scraps? How the heck did that happen?
Well, like most of us, Michael Susak grew up eating scrapple. The only difference is, he was raised in eastern Oregon where no one else was eating it.
As you can imagine, finding scrapple on the west coast is not easy. But that wasn't a problem for Michael's family because his grandfather had developed a recipe and would bake scrapple himself. (Michael's great-grandfather was from Pennsylvania, which is where the love of scrapple stems from.)
"We made this stuff and ate it in secret," said Michael. Otherwise "everyone just looked at us weird."
Michael's grandfather, lovingly nicknamed WAD, had heart concerns later in his life and realized he needed to eat healthier. I'm sure doctor's orders were to completely cut scrapple from the diet, but WAD couldn't do that. Instead, he decided to make his recipe healthier: WAD cut out the offal where a lot of the cholesterol is and used ham hocks as his source for the scrapple meat.
The family continued to enjoy scrapple and Seattle still looked at them funny. Eventually, Michael and his Uncle Steve thought, "People should like this stuff."
They started making some batches, perfecting their own technique – still making the scrapple with actual pork and no organs or scraps – and West Coast Scrapple was born.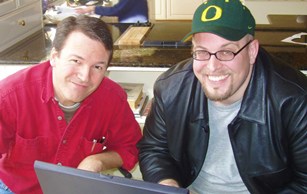 But how did it taste? Would people actually like this stuff? As uncle and nephew were getting things going, Scrapplefest at Reading Terminal in Philadelphia was just around the corner. Michael figured, "If we can take it to Philly and get them to like it then we got something." So West Coast Scrapple showed up at Scrapplefest.
People saw "West Coast" in their name and were a bit skeptical, but would open up a bit after hearing about their Pennsylvania roots.
"Nobody there said, 'This is not good,'" laughed Michael, "and some even said it was the best they tasted at the event!" So Mike and Uncle Steve considered West Coast Scrapple a success. They were even able to win over the few folks living in Philadelphia who usually won't eat scrapple. Michael and Uncle Steve could proudly tell them, "The stuff you're afraid of isn't in here!"
I had the pleasure of tasting some West Coast Scrapple and it is absolutely delicious. The spices are strong, and similar to the taste you expect from scrapple. But the meat itself really stands out because it actually tastes like pork. This different flavor might throw you off if you've grown up eating RAPA or Habbersett – which are also delicious – but in my opinion it is a welcome change.
The ham hocks they use come from pigs raised at Carlton Farms in Oregon and they buy their cornmeal from Bob's Red Mill which is also nearby.
"It's nice to work with a local company and have that relationship," says Michael.
Michael is also excited by the growing interest in scrapple.
"A trend in food is nose-to-tail butchering," says Michael. So scrapple is perfect for becoming a part of that movement.
Until then, West Coast Scrapple is happy to be serving the dedicated scrapple lovers out there.
So how do you get this clean stuff? You can buy West Coast Scrapple online and they do ship to anywhere in the United States, year-round (maybe an answer for some of you transplants who miss seeing scrapple in their local grocery store). This spring, West Coast Scrapple also expects to be at some local farmers' markets in the Portland area.
Michael and his Uncle Steve have even been experimenting with different scrapple styles, like a gluten-free scrapple that uses buckwheat instead of cornmeal with no wheat flour, and a Salmon Scrapple (?!!)
Wait wait wait. Healthy scrapple? No scraps? Salmon? That's not how scrapple is supposed to be! Who do these fools think they are?!
They're just two guys making a family recipe that "they hope you'll enjoy even half as much as they have over the years."
Have you enjoyed West Coast Scrapple? What do you think of healthy scrapple? Tell us in the comments!