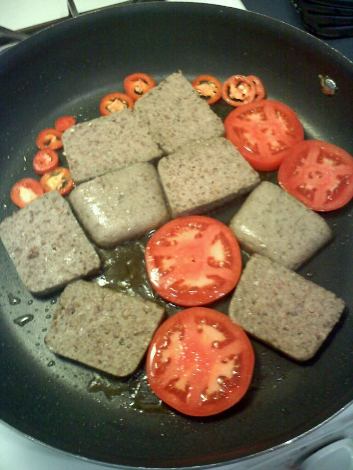 Sunday morning, David sent me this photo of some delicious scrapple making going on.
"Jalapenos, tomatoes from the garden and SCRAPPLE!." RAPA scrapple to be specific, and it looks delicious.
But is he always frying up his scrapple with some fresh veggies?
"It can be as simple as a couple of pieces with eggs (gotta have eggs) or something more elaborate with jalapenos, onions, tomatoes, etc," said David.
"RAPA is the best that I've tried, but whenever I see new, I always experiment," he says. And since David lives in Maryland near the Chesapeake, he's probably lucky enough to have a few more brands to experiment with.
The story of his first scrapple experience is a simple one, but it was love at first taste.
"I probably started eating scrapple on a golf trip when I was a younger man," said David, looking back for the scrapple memory. "Some of the older guys probably had it on a sandwich, I tried it, and that was that."
So why does he think more people aren't eating this delicious meat?
"I frankly don't know what the issue is that so many people have with it. At least there is truth in their labeling. Lots of foods probably have scarier ingredients, and they're hiding it. Scrapple is good country food, eaten the way that food was back in the day, when people were closer to the land."
What an excellent point: scrapple is an honest meat! What exactly is in a McNugget? Is there really beef in a Taco Bell taco?
Maybe you're getting some organs and scraps in your scrapple, but no one is shy about it; all the ingredients are listed right there on the label!
Like all scrapple lovers, David is so wise.
Scrapple on, David.